Hello Reader,
It's the fifty-first week of 2022.
Maybe you accomplished a lot this year but, if you're like me, I came up lacking in a handful of key objectives.
This summer, though, I cracked the code on establishing, managing, and meeting (most) objectives and I'm confident that carrying my code into the new year will yield much different results for 2023.
Today I get to share this new system -- and how it's different from any other productivity I've ever tried.
I know you're busy with year-end deadlines and holiday pressures, so let's get to it.
​
New systems have three potential problems — they're all between your ears.
Problem 1: Complexity = Confusion
You work so hard to build the guru's complex system that you have no idea how to use your setup.
So you quit.
Problem 2: Zero Room for Customization = Frustration
You work so hard to build the system exactly like its creator showed you, but it doesn't work for your situation.
So you quit.
Problem 3: No Inputs = Failure
My mid-January, you are so swamped that you don't have time to provide inputs.
So you quit.
All that effort and not only do you get nothing out of your preparation, you're chipping away at your "I can do this" identity.
Now you have invited feelings of inadequacy to camp out in your brain.
Booooo. Hiss! From experience, I can tell you this is no way to live.
Feelings of inadequacy become more entrenched with each passing year, making it more and more difficult to give them the heave ho.
If you need a new productivity system, look for 5 basic elements.
5 Elements for an Effective Productivity Systems
In addition to basic systems for organizing projects like due dates and recurring action items, you will need:
Capture mechanisms that are available, quick, and easy.

A blueprint structure for personalizing your system.

A mechanism for discovering who you want to become.

A framework for daily intention-setting to convert identity to action.

A structure for having conversations between your past, future, and current self.
A Mash-Up of Two Frameworks
For the past eight to ten years, I have used Item 3: A mechanism for discovering who you want to become as a stand-alone activity.
Journaling has been a tool for aligning values with attitudes and mindsets.
For the past eleven months, I have been practicing my friend R.J. Nestor's AP Productivity Framework (See Items 1 & 2).
During this time, I've formalized — and practiced — Item 4: A framework for daily intention-setting to convert identity to action.
Item 5: A structure for having conversations between your past, future, and current self is a practice I've used since 2015 to manage self-doubt.
​You may even be using this practice I call Note to Next Day Self (NTNDS).
​Be sure to read more about R.J.'s productivity philosophy.
A Peek Inside My System
The screenshots in this section are from a digital thinking tool called Tana.
The system works terrific in any digital journaling, writing, or planning tool — and works equally well using a pen and paper.
You'll get similar results when you use the eyeball test to review your daily intentions.
---
Since using Tana, I have been programming my daily intentions based on previous journaling inputs.
​
This process so far has helped me become more attentive to my mom, consistent with fitness & exercise, checking in with friends & keeping track of friends & a big and beautiful extended family. ❤️🙏🏻❤️
Current Setup
Specific questions inside Daily Intention match medium-term objectives — identified through previous journaling revelations.
​
The screenshots show how I'm programming my intention to prioritize:
Audience growth

Revenue growth via product offerings as defined by specific audience metrics

Cranking out one new tiny product each month through March
Here's my Today: I'm set up for 3 sets of atomic journaling entries:
Daily check-in
Today's intention (as determined by journal entries that revealed inconsistencies between stated goals & actions)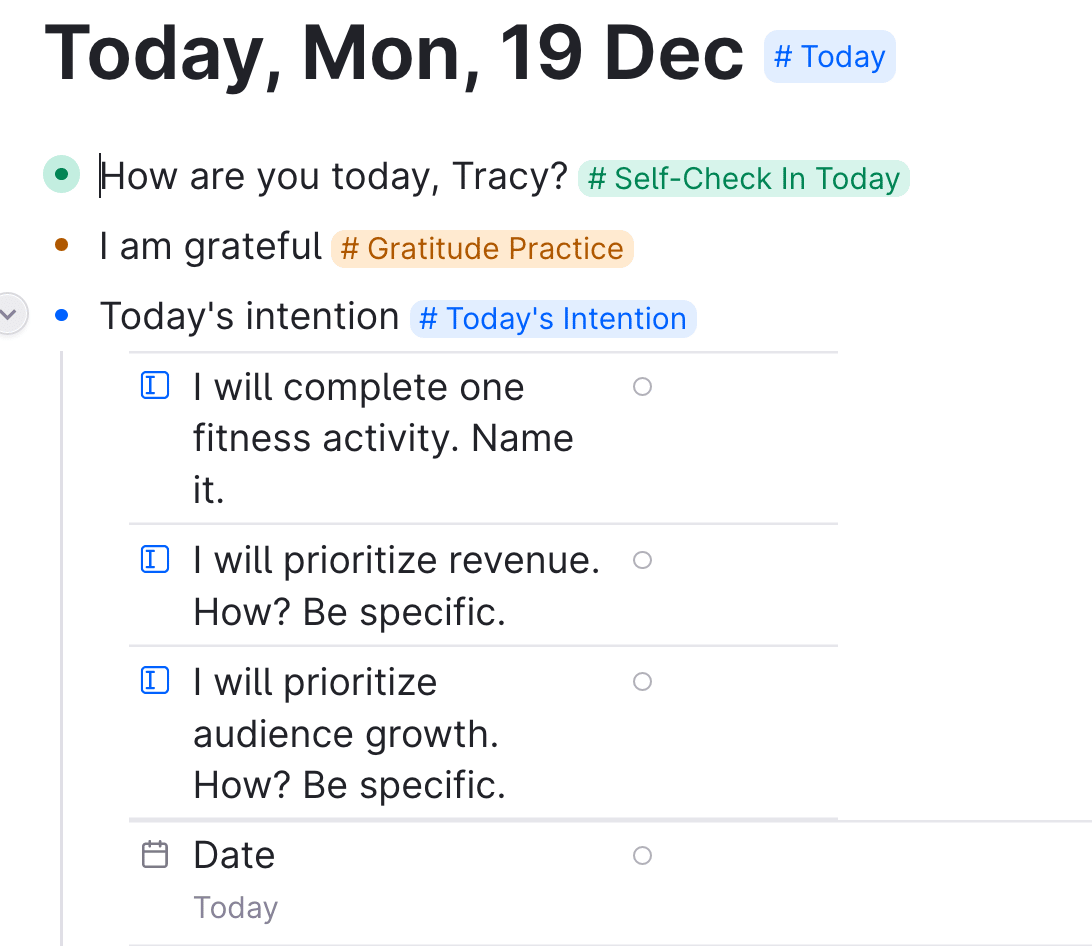 What Questions Do You Have About This System?
While I've been using this system for several months, only during the past 3 weeks or so have I been able to articulate what I'm doing and why it works.
Please share your questions and insights so I can continue writing about this practice into 2023.
---
My friend R.J. Nestor & I will be demonstrating our productivity and intention-setting systems during a 90-minute workshop next week ($95).
You will have time to set some intentions of your own, as well as ask questions specific to your goals, planning tools, and situations.
---
Happy Hanukkah and Merry Christmas.
🕊️ Peace.
-t